Day room Hotel

+33 972 318 266
Hôtel Duo




Boutique Hotel for the daytime - Tourist visits

This partner has implemented hygiene and preventive measures to ensure your safety. It is possible that some services or benefits at this establishment may be reduced or unavailable due to the coronavirus pandemic (COVID-19).
Wishlist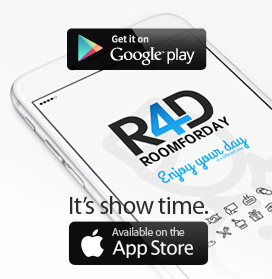 L'heure du départ de la chambre est fixée pour la journée suivant les conditions affectées par l'hôtel. Après ces dates l'hôtel peut exiger le montant d'une nuitée. Règlement sur place à votre arrivée selon l'un des moyens de paiement autorisé par l'établissement.

N'annulez pas une réservation directement à l'hôtel, vous devez obligatoirement l'annuler sur notre site pour qu'elle soit prise en compte. Si vous n'annulez pas dans les temps, et que vous n'honorez pas votre réservation, nous considérerons qu'il s'agit d'un "No-Show" et vous ne pourrez plus réserver sur RoomForDay® sans carte bancaire pour garantir vos nouvelles réservations.

Lorsque l'hôtel déclare un no-show et qu'une emprunte bancaire a été effectuée lors de la réservation, RoomForDay débitera la carte bancaire du montant de la réservation.
Payment is made at the hotel upon arrival (check-in). Payment accepted in cash or credit card
Bienvenue au cœur du Paris authentique !

L'Hôtel Duo Paris, hôtel-boutique Le Marais, est un charmant hôtel de caractère situé au cœur de Paris, dans le quartier du Marais, près de Beaubourg et de Notre-Dame.

Depuis 1920, ce sont quatre générations de femmes qui se sont succédées à la tête de l'hôtel Duo Paris, contribuant à faire du lieu une adresse élégante et incontournable de la rive droite. Dans cet ilot contemporain niché dans un quartier parisien au riche passé, c'est toute l'âme de Paris qui est soulignée avec talent. Aux portes du Marais, le Duo se dresse à quelques mètres de l'Hôtel de Ville et du BHV Marais, une situation de choix. Séjourner au Duo, c'est goûter à une hospitalité où l'expérience est reine et le service maître mot.

Cet environnement, qui combine différentes sortes de lumières, couleurs et matériaux, crée une atmosphère raffinée, à la fois apaisante et pleine de vitalité. L'hôtel Duo est plus qu'un hôtel, c'est un point de rencontres, de réunions et d'événements, pouvant être organisés de manière publique ou privée.

L'hôtel Duo est situé au cœur de l'un des quartiers historiques de Paris : le Marais/Beaubourg. Les principaux lieux d'intérêts, tels que le Centre Georges Pompidou, le Musée du Louvre et Notre-Dame de Paris se trouvent à quelques pas de l'hôtel.

Le personnel de réception sera enchanté de vous aider à faire votre choix parmi les nombreux endroits à visiter à proximité de l'hôtel. Le quartier du Marais est particulièrement réputé pour ses nombreux cafés et restaurants pittoresques, ainsi que ses bars et terrasses à la mode où vous pourrez découvrir et profiter d'une ambiance typiquement parisienne.

Venez faire de l'exercice dans la salle de sport de notre hôtel. Un sauna, des machines de body-building et de cardio-training sont mis à votre disposition. Salle ouverte de 7h00 à 21h00, exclusivement réservée à nos clients.

Derrière une façade discrète, de nombreuses parties de l'hôtel sont organisées autour du patio à ciel ouvert et de son splendide mur végétal. Venez profiter du soleil dans le patio. L'atmosphère calme et réservée du matin change tout au long de la journée pour devenir glamour et branchée le soir.


Informations :
Métro 1 & 11 : Hôtel de Ville
Parking privé
Facilities and Services :
Parking, Connexion Wi-Fi gratuite, Chambres familiales, Navette aéroport, Chambres non-fumeurs, Salle de sport, Bar
Tags :
Boutique Hotel, Sports, Charming hotel, Food & Drinks, Champagne, Bedroom, Contract, Sauna, Wellness, Services, Design Hotel, shop, Charm, City Center, Tourist visits, Fitness, Bar and Cocktail, Romantic hotel, Hotel for a day, Hotel afternoon, Day Room, Love Room, Rendez-vous.
Day rooms and Meeting rooms